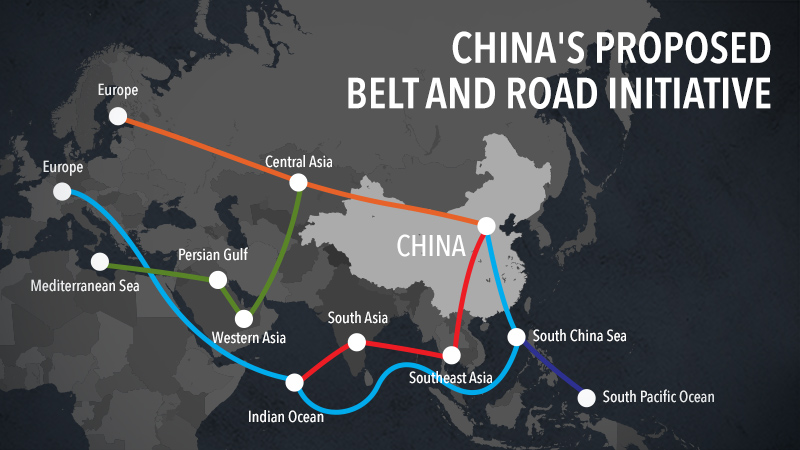 Since the Belt and Road Forum in Beijing last Sunday, China's Belt and Road Initiative (BRI) has been all over the news. Despite its ubiquity in the press many are still confused, three years after being announced by Xi Jinping, about what the BRI actually is. Even the name is befuddling: until recently it was officially called "One Belt, One Road" (OBOR).
In brief, the BRI is a long-term state-led international development project that aims to build and expand critical infrastructure in a range of countries across Eurasia to boost trade and economic development. Beijing views it as a "Chinese solution to global economic blues" and some international commentators have described it as a move to fill the void of global leadership left by an increasingly inward-looking United States. For China it also conveniently soaks up a huge glut of excess industrial capacity, thus easing the transition towards a consumer-led domestic economy.
The scale of the initiative is stupendous. Involving 60 countries and spanning 5 new international trade routes, the BRI has been described as "the most ambitious development plan in history". It covers 62% of the world's population (including China) and 30% of the world's economic output. PriceWaterhouseCooper estimates that the project constitutes USD 6 trillion in infrastructure spending alone.
So what part does Britain have to play? Until now the UK has been involved mainly in consulting and capital investment in individual third country projects. HSBC, BP and Linklaters among others are identified as key private UK partners in the official reports. At a state level, the UK has been eager from the get-go. By joining the founding cohort of the China-led Asian Infrastructure Development Bank the UK government has emphatically broken the ice on behalf of private investors.
At the same time, the ground is being laid for more UK-side industry and infrastructure projects. Worries of chilling industrial ties between China and the UK since Theresa May's delaying of approval for the Chinese-funded Hinkley Point nuclear power station have largely faded since the UK was invited to the Belt and Road Forum last Sunday. Comments from the Chinese ambassador to the UK, Liu Xiaoming, make clear China's continued commitment to bilateral ties in spite of Brexit and political uncertainty in the UK.
It is therefore fair to expect a great deal of noise (even more than usual) surrounding investment partnerships with China, sometimes in third party countries. We're also likely to see more and more interest from China in our own UK companies at every level, from light-bulb manufacturers to nuclear power stations. Ready or not, the Belt and Road is headed your way.